NATIONAL
Fortune struck one man in the bakery aisle at the supermarket. Two others were working the night shift at a Subway sandwich shop. Yet another was plucked from a list of 15,000 hopefuls.
Larry King, the suspenders-sporting everyman whose broadcast interviews with world leaders, movie stars and ordinary Joes helped define American conversation for a half-century, died Saturday.
President Joe Biden plans to take executive action Friday to provide a stopgap measure of financial relief to millions of Americans while Congress begins to consider his much larger $1.9 trillion package to help those affected by the coronavirus pandemic.
Seven Democratic senators on Thursday asked the Senate Ethics Committee to investigate the actions of Republican Sens. Ted Cruz and Josh Hawley "to fully understand their role" in the Jan. 6 insurrection at the Capitol by supporters of former President Donald Trump.
President Joe Biden on Wednesday revoked a recent Trump administration report that aimed to promote "patriotic education" in schools but that historians mocked and rejected as political propaganda.
Elizabeth Shelby had her inauguration outfit planned weeks in advance: blue jeans, a Kamala Harris sweatshirt, a green coat, and pink Chuck Taylors as an homage to her sorority's colors and Vice President Harris' signature shoe.
Public health experts Thursday blamed COVID-19 vaccine shortages around the U.S. in part on the Trump administration's push to get states to vastly expand their vaccination drives to reach the nation's estimated 54 million people age 65 and over.
Senate Republican leader Mitch McConnell is proposing to push back the start of Donald Trump's impeachment trial by a week or more to give the former president time to review the case.
Dr. Anthony Fauci is back.
Amazon won't be forced to immediately restore web service to Parler after a federal judge ruled Thursday against a plea to reinstate the fast-growing social media app, which is favored by followers of former President Donald Trump.
Facebook is passing the buck for its indefinite suspension of former president Donald Trump to a quasi-independent oversight board, setting up a major test of the recently established panel.
The French doctor who discovered the genetic basis of Down syndrome but spent his career advocating against abortion as a result of prenatal diagnosis has taken his first major step to possible sainthood.
David Halls isn't a doctor, nurse or ambulance driver, but he wanted to contribute in the fight against COVID-19.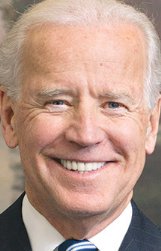 Joe Biden was sworn in as the 46th president of the United States, declaring that "democracy has prevailed" and summoning American resilience and unity to confront the deeply divided nation's historic confluence of crises.
As the U.S. enters "what may well be the toughest and deadliest period of the virus," President Joe Biden is putting forth a national COVID-19 strategy to ramp up vaccinations and testing, reopen schools and businesses and increase the use of masks -- including a requirement that they be worn for travel.
For the first time in more than a decade, Republicans are waking up to a Washington where Democrats control the White House and Congress, adjusting to an era of diminished power, deep uncertainty and internal feuding.
The push to inoculate Americans against the coronavirus is hitting a roadblock: A number of states are reporting they are running out of vaccine, and tens of thousands of people who managed to get appointments for a first dose are seeing them canceled.
Three new senators were sworn into office Wednesday after President Joe Biden's inauguration, securing the majority for Democrats in the Senate and across a unified government to tackle the new president's agenda at a time of unprecedented national challenges.
Scientists are reporting troubling signs that some recent mutations of the virus that causes COVID-19 may modestly curb the effectiveness of two current vaccines, although they stress that the shots still protect against the disease.
As the coronavirus swept across the globe last year, the Centers for Disease Control and Prevention sank into the shadows, undermined by some of its own mistakes and stifled by an administration bent on downplaying the nation's suffering.